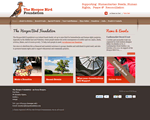 Solas Web Design recently completed a new website for The Hoopoe Bird Foundation.
The Hoopoe Bird Foundation is an Ireland based charity set up to raise fund for humanitarian and human rights purposes, especially in the Middle East and Palestine, where people endure the awful consequences of conflict and war, injury, death, eviction, illness, and of course poverty.
Their aim is to distribute this as financial and material assistance to groups, families and individuals in great need, and also to promote human rights and to support educational and community projects. 
Visit: www.hoopoefoundation.com