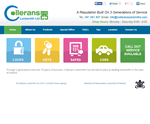 Solas Web Design recently completed a new website for Collerans Locksmiths
Through 3 generations and over 75 years of business, Collerans Locksmiths has earned its place as leading locksmiths in the west of Ireland.
Collerans stock an extensive range of products that will enable you to feel secure in your home, business or car. Many products can be customised to ensure that you are getting exactly what suits your needs. Collerans are master locksmiths, so if you have an unusual or unique situation, to them it is not viewed as a hassle, but a welcome challenge.
Visit: www.colleranslocksmiths.com