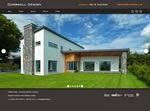 Solas Web Design recently completed a new website for Corbwell Design
Corbwell Design is a progressive practice consisting of Architects, Technologists, engineers & Interior Architects. Established in County Galway in 2007.
It is their aim to provide a fully comprehensive Architectural, Civil and Structural Engineering service for their clientele.
They focus on providing their clients with their dream designs whilst also considering important aspects of building design including budget, sustainability, ergonomics, aesthetics & context of a building.
Visit: www.corbwell.ie