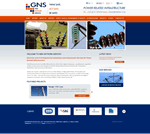 Solas Web Design recently completed a new website for Grid Network Services.
Electrical and Civil Engineering Consultancy and Construction Services for Power Related Infrastructure.
Grid Network Services Ltd (GNS) will provide the client with a highly professional, committed and competitive turnkey solution service for all aspects of Power Related Infrastructure involved in the Transmission, Distribution, and Connection of Electricity.
Visit: www.gridns.com