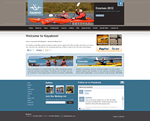 Solas Web Design recently completed a new website for Kayakmor.
Kayakmór tours are owned by kayak guide Jim Morrissey, a well-known racing paddler  & qualified Kayak instructor (ICU Level 2 & 3 ) based in County Galway. Since learning to kayak with Dollymount Sea Scouts in Dublin harbour a few decades ago paddling remains a constant , whether teaching, touring or racing at home or abroad.
He advocates kayaking as an ideal water sport for all ages, for meeting like-minded people, improving fitness, and as an ideal platform for viewing nature. These are just some factors that motivate us to share the kayaking experience with others. The unspoilt water resources of County Galway and the Mid west, both sea and inland, offer a myriad of choices of ideal paddling locations, awaiting discovery.
Visit: www.kayakmor.ie