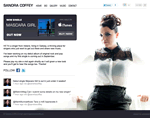 Solas Web Design recently completed a new website for singer Sandra Coffey.
Sandra Coffey is a singer from Ireland, living in Galway, a thriving place for musicians who just want to get out there and share new music.
Sandra releases her first single, Mascara Girl, on Friday September 28. The song describes the thoughts a woman has as she prepares for a date. Funky guitar solos swagger in over chilled piano playing to give this song a catchy vibe and equally catchy chorus. From Friday, it will be available on all download stores, including iTunes.
Visit: www.sandracoffey.ie