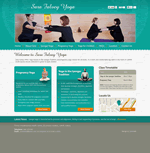 Solas Web Design recently completed a new website for Sara Falvey Yoga.
Sara Falvey offers Yoga classes in the Iyengar Tradition and pregnancy yoga classes for all levels, in a warm and comfortable log cabin in the heart of Salthill.
Small classes ensure attention is given to each student.
Courses run for 8 weeks and cost only €80.  Students are welcome to join courses after they have started, or on a drop-in basis.  A drop-in class costs €13. A new course starts 7th March.
Visit: www.sarafalveyyoga.com