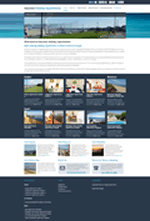 Solas Web Design recently completed a new website for Seaview Holiday Apartments
Seaview have a selection of beautiful apartments at very competitive prices in Dublin 4, Marbella and Mojacar. They have carefully chosen the locations In the most prestigious and sought after residential areas. All their apartments have individual interiors, and are furnished and equipped to a high standard for your comfort. You can enjoy the attraction of financial savings, extra room, privacy, and flexibility.
Professional cleaning and maintenance staff ensure that our apartments are maintained to the highest standards. Their well located apartments are perfect for your home stay or vacation, our holiday apartments are available on a short – let basis from a minimum of 4 nights.
Visit: www.holidayapartments.ie