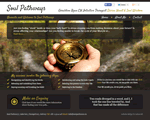 Solas Web Design recently completed a new website for Soul Pathways
Are you feeling "stuck" inside or does your body hurt? Is stress stopping you from making decisions about your future? Is stress affecting your relationships? Are you feeling unable to break the cycle of your lifestyle or habit?
Change is inevitable, so why not choose how you want to change.
Geraldine is a Clinical Hypnotherapist and Energy Intuitive, she can guide you through a process to get emotional relief and find your true soul path.
Visit: www.soulpathways.ie