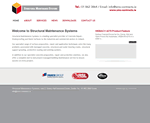 Solas Web Design recently completed a new website for Structural Maintenance Systems
Structural Maintenance Systems is a leading specialist provider of Concrete Repair, Waterproofing and Resin Surfaces to the industrial and commercial sectors in Ireland.
Their specialist range of surface preparation, repair and application techniques solve the many problems associated with damaged concrete, structural and water-bearing cracks, structural support grouting, protective coating and jointing systems.
In addition to their specialist concrete preparation, repair and protection solutions, they also offer a complete end-to-end project-managed Building Maintenance service to ensure success on every project.
Visit: www.sms-contracts.ie