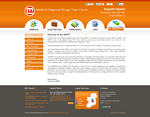 Solas Web Design recently completed a new website for the Midland Regional Drugs Task Force (MRDTF).
Funded by the Department of Health, the MRDTF covers the catchment area of Longford, Westmeath, Laois and Offaly.
The overall objective of the MRDTF is to continue to tackle the harm caused to individuals and society by the misuse of drugs through a concerted focus on the five pillars of the Interim National Drugs Strategy 2009 – 2016, Supply Reduction, Prevention, Treatment, Rehabilitation and Research.
Visit: www.mrdtf.ie