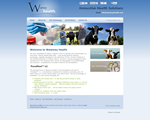 Solas Web Design recently completed a new website for Westway Health.
Westway Health were established in Galway, Ireland in 2012 to develop and commercialise our innovative, natural antimicrobial LARS – Long Acting Reactive Species- technology, originally developed in the laboratory of Prof. Vincent O'Flaherty in the National University of Ireland, Galway.
Westway Health have a strong management team, experienced in the veterinary field, and an exciting pipeline of groundbreaking new products – underpinned by excellent research and development.
Visit: www.westwayhealth.com